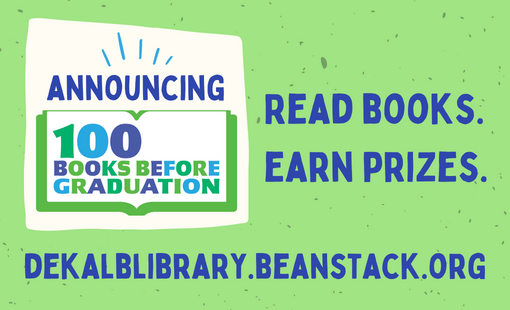 We chal­lenge you to read 100 books before grad­u­at­ing high school! Sign up at dekalbli​brary​.beanstack​.org to register.
Start­ing at age 13, you can sign up to com­plete this chal­lenge and win big! We know that high school is a busy time and 100 books is… a lot of books, but read­ing can pro­vide stress relief, increase empa­thy, improve your vocab­u­lary, and devel­op your writ­ing skills. Also — IT'S FUN!
If you need sug­ges­tions for what to read, check out our list of librar­i­an, teacher, and teen-approved books. You can also receive per­son­al­ized rec­om­men­da­tions from DeKalb Coun­ty Pub­lic Librar­i­ans by fill­ing out this form.
To com­plete the chal­lenge, you must read and log 100 books and write 10 book reviews. Book reviews must be at least 5 com­plete sen­tences to count towards the chal­lenge. We want to know what you liked AND what you did­n't like! Want more info? Scroll down for the FAQ.
Need moti­va­tion to keep read­ing or just want to nerd out about books with your fel­low chal­lengers? Join us the first Mon­day of every month for the 100 Books Before Grad­u­a­tion vir­tu­al sup­port group! Reg­is­ter online here.
All chal­lenge fin­ish­ers will receive bench­mark and com­ple­tion prizes, dis­trib­uted through­out the year. Also, if you com­plete the chal­lenge, you will be entered into a year­ly draw­ing to win a big prize - an iPad Pro! Let's go!

All prizes for the 100 Books Before Grad­u­a­tion Chal­lenge are pro­vid­ed by the DeKalb Library Foundation.
100

Books

FAQ
Spon­sored By: